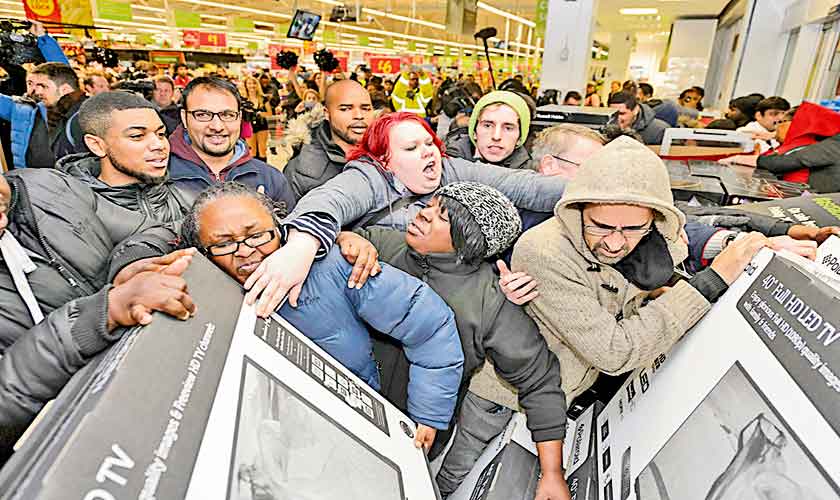 Americans can be thankful for a year of good growth and falling unemployment. Looking ahead, though, it is consumer demand — as displayed on Black Friday, the first big shopping day for Christmas — that will determine how the economy is doing by Thanksgiving next year.
A year after Donald Trump's election, the economy has continued to perform pretty much the same way that it did under Barack Obama: steadily if not spectacularly. Mr Trump and congressional Republicans propose that an intervention now, in the form of tax cut funded by a $1.5tn increase in the deficit over a decade, would stimulate demand and investment. Perhaps, amid but the current momentum behind domestic demand and exports, the need for any kind of fiscal stimulus has diminished.
The US is performing reasonably well for an economy apparently struggling, as in all advanced countries, with anaemic long-term growth potential. Consumption growth seems to be strengthening in the fourth quarter, with consumer confidence and retail sales strong. True, the robustness of consumption this year has come at a cost of further falls in the personal savings rate. But high equity and housing prices have pushed up household net wealth, and debt relative to income is still far below its peak before the global financial crisis.
Business investment grew rapidly in the third and fourth quarters, with expectations for future capital spending also rising strongly. The labour market continues to generate jobs and bring down the unemployment rate.
Even net trade is likely to contribute to growth during the next year, whatever Mr Trump might think about the perfidy of China stealing export demand from America. Thus far, therefore, the economy has proceeded steadily, presumably eating into whatever spare capacity it has.
And yet price pressures remain weak. There has been some pick-up in consumer price inflation, but it remains well below the Federal Reserve's 2 per cent target.
Wage growth remains feeble, which means that real earnings have so far this year underperformed their recovery during the second term of Mr Obama's administration. If equity or house prices fall — and certainly many believe the valuations for the former to be seriously stretched — the potential for a retrenchment in household spending is considerable.
In the midst of this, it is unlikely that any tax cut conceived of by the Trump White House and passed through Congress will increase the long-term growth potential of the economy. The tax code has big problems, including a high marginal rate of corporation tax shot through with a variety of exemptions. But while giving tax cuts to corporations and the rich and leaving much of the complexity may stimulate growth, it should not be mistaken for fundamental or far-sighted reform.
At a recent meeting of chief executives organised by the Wall Street Journal, Gary Cohn, the White House chief economic adviser, was visibly surprised when most attendees indicated they would not increase investment even if the current tax proposal passed through Congress, defying his earlier assurances.
The economy is performing well. Even the strikingly high number of inactive people — those neither in a job nor looking for one — of prime working age has come down somewhat. But in a context of slow long-term potential economic growth, and household spending apparently kept up by stock prices, the US economy remains vulnerable to a downturn that policymakers will need to act promptly to reverse.